Sleep Study
Sleep Disorder Testing Center
A Sleep Disorder Testing Center is required to conduct a Sleep Study prior to the prescription of an oral appliance. We work closely with the Center for Sleep Medicine in Stamford and the Sleep Center at Greenwich Hospital, accredited by the American Academy of Sleep Medicine providing help to people of all ages who suffer from sleep disorders. Dr. Vermani will facilitate all lab testing and follow-ups.
Home Sleep Testing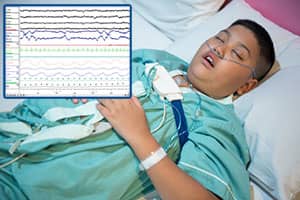 Home Sleep Testing is a medical assessment ordered by a physician for the diagnosis of Obstructive Sleep Apnea in select adults. It is performed with a take-home portable testing device to measure the patient's breathing while sleeping at home. The study can be performed for one or two consecutive nights. The data collected is analyzed by a qualified sleep technician or doctor once the portable testing device is returned to the sleep center.
Home portable testing devices usually have a belt for the abdomen or chest, an airflow sensor for under the nose, and a pulse sensor for the finger.
Overnight In-Hospital Study or PSF (Polysomnography)
This study is performed in the hospital sleep center while the patient sleeps in a private room overnight. According to the American Academy of Sleep Medicine, a polysomnography is the most accurate method to diagnose sleep related disorders, especially for children who are not ideal candidates for a home sleep study. A polysomnography measures brainwaves, heart rhythm, muscle and eye movement, oxygen levels and breathing.
MatRx Plus Technology
MatRx Plus is a new technology to identify patients who can be treated successfully with an oral appliance. MatRx simplifies patient selection by identifying responders and an effective protrusion position for creating the most effective oral appliance. MatRx Plus is the first at-home Sleep Theragnostic system that predicts the therapeutic outcome with a custom-fitted oral appliance.
---
Choose Greenwich Sleep Apnea. Call for your free consultation today!