ProSomnus® MicrO2® Sleep and Snore Device
ProSomnus® MicrO2® Sleep and Snore Device is a dental appliance for the treatment of Obstructed Sleep Apnea (OSA). The MicrO2® Sleep and Snore Device is worn during sleep to maintain the opening of the upper airway by increasing its dimensions and reducing collapsibility.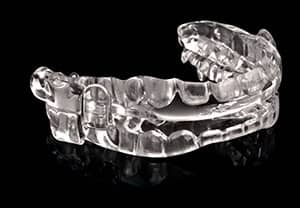 The appliance is very discrete, allowing you to close your lips so it is not obvious that you are wearing it.
The MicrO2® is only available for patients with teeth or dentures. The oral appliance is custom-made for each patient based on the results of his/her sleep study OSA onset jaw position. MicrO2® inhibits the jaw from moving into the OSA onset position. The appliance is comprised of upper and lower dental plates with a unique patented fin coupling component, which allows normal mouth opening and closing.
ProSomnus® is Effective
Design based on clinical expertise of leaders in the field of Dental Sleep Medicine
Treats OSA by positioning the mandible according to the prescription
90° post angle prevents the lower jaw from falling back during sleep
CAD/CAM digital process for unmatched accuracy
Thinner and stronger with significantly less overall bulk and volume
Retainer-like fit keeps teeth from moving, and initial-delivery adjustments disappear
One-piece construction with no moving parts
Adjustment method similar to changing aligners
Lingual-free design for 11% more tongue space
Minimizes the risk for TMJ and other craniofacial complications
Denser acrylic milling puck increases strength while decreasing monomer leaching
Crystal-clear material is more attractive and easier to clean
Easy to replace with seven-day turnaround
Choose Greenwich Sleep Apnea. Make your appointment today!